Around South Goa
Betul Beach
Betul beach is one of the most panoramic beaches of South Goa. It is one of the beaches that has the River Sal flowing parallel to it. Betul beach has its own Estuary – meeting point of the sweet River water of Sal with the salty ocean of the Arabian Sea. Betul beach also a natural fishing port and jetty that is very active in the fishing industry of Goa. At Betul, one will find lots of Mechanized fishing boats and deep sea trawlers heading for their daily catch into the deep seas of the Arabian Ocean. The beach of Betul is full of Silvery sands surrounded by fruit trees and coconut palms for a little shade. If you are a Seafood lover and would love to buy cheap and fresh fish, then head early morning to reach around Sunrise at Betul. The beach of Betul is active with lots of fishing activity going on throughout the year, except the Monsoon seasons. Staying at River Castle rooms and visiting Betul beach is an ideal day trip activity for tourists.
Cabo de Rama Fort
Cabo means Cape. De Rama means of Ram. So Cabo de Rama means Cape of Ram. Since the time of the Soonda Rulers in this area, it is believed that Lord Rama of the mythological story of Ramayana to have stayed over here along with wife Sita for a little while, during his long exile. This 18,000 Square meter fort was guarded by 21 Canyon guns from all sides which can be seen even today. Cabo de Rama fort is said to be more than 300 years old and some of the Portuguese engineering that went into the building of this magnificent fort can be seen standing tall. One can still notice the date engraved in the solid iron canyons left open to the vagaries of nature, to be made in the 17th Century. The Cabo de Rama fort still has 21 guns for its defense, a chapel, military barracks and quarters for the use of the commandant under the Portuguese. Tourists and locals still flock to this ancient fort in ruins due to its spectacular location. A part of the fort juts into the sea giving exotic sunset views. There exist still 2 natural springs within the vicinity of the fort. A little inaccessible
and tiny Cabo de Rama beach exists at the end of the "cape" area with lot of the beach part being rocky, but worth a visit. This is to be visited destination for guests residing at River Castle Guest House in Cavellossim – Mobor area of South Goa.
Braganza House, Chandor
The full name of this house is Menezes Braganza Pereira house of Chandor. Menezes Braganza is the West wing of the house and Braganza Pereira is the East wing of the same house. Dozens of Bollywood movies have used this Braganza house as a shooting locale for their movies in Goa. Most visitors will get the feel that this house of Braganza is somewhat like a Museum. This is because each and every small thing is an antique here. The Braganza house by itself is built in Portuguese times having Portuguese architecture and design in its build. It is located in Culsabhatt ward of Chandor village in Salcete district of South Goa. This Braganza House of Chandor is well-known more than 350 years old and is located near the church square in Chandor. This is less of a house and more of a mansion. It
is the most exotic and exquisite heritage house in the Goan countryside, one of the biggest in Goa and also has a Portuguese style frontage. To many heritage lovers, the Braganza house of Chandor is like a museum of chandeliers, painting, porcelain, crystal, period furniture and other antique items. Items to watch out over here are the nail of Saint Francis Xavier which is held in the Petite Chapel within the house. Two chairs bearing the Portuguese Coats of Arms, gifts of the Portuguese king and the huge Ballroom still maintained as it was 3 centuries ago. Not to be missed house of Goa, for River Castle guests as it is open for tourists visit from 10am to 05.30am on weekdays.
Ancestral Goa
The Ancestral Goa is a mock museum of how ancient Goans used to live and settle in Goa. It is located in the Goan village of Loutolim which is at a distance of only 16 kms from River Castle Guest House or 10 kms from Margao city. Ancestral Goa is also better known as Big Foot or Museum of Crosses too, which is in its vicinity. Privately owned, m
anaged and run by the local Goan artist called Maendra Jocelino Araujo Alvares. This open-air museum reconstructs Goan rural life as it was more than hundreds of years ago. Visit this place for Art Gallery, Handicrafts center, Big Foot dance floor, Big Foot Restaurant, Boca da Vaca spring, Bird habitat, Mini Spice plantation, Rubber plantation, Largest laterite carving of Sant Mirabai etc The chief focus of Ancestral Goa is the huge 14 meter laterite rock sculpture of Sant Mirabai carved in 30 days by Maendra Jocelino Araujo Alvares the innovative artist cum arts center owner. Sant Mirabai laterite stone carving has entered the Limca book of records for being the longest laterite sculpture in India. Guests of River Castle can visit this Ancestral Goa, a modern museum situated in the village of Loutolim in South Goa.
Chandranath Hill Temple
The Chandreshwar Temple is an prehistoric temple located on the road to Quepem city in South Goa. This temple of Lord Chandranath is based on the Chandranath hill, a densely forested hill about 350 meters high and is devoted to an avatar (incarnation) of Lord Shiva, The Lord of the Moon. Hence the name of Chandranath. Within the Sanctum, Santorum the Shivalinga (stone in shape of a phallus) is made of a natural boulder of rock. It is positioned in such a way that it the Shivalinga is bathed on full moon nights in moonlight. Besides this is the smaller temple of the attendant deit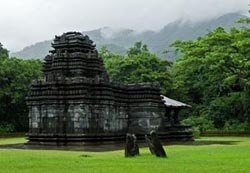 y to Lord Chandranath that is Bhootnath or Lord of Ghosts. Interesting temple where one can walk on the steps or the modern tar road crossing the hills of Chandranath to reach the temple that is at the highest point of the hill. All the surrounding hills are protected and considered holy and hence no modern constructions are permitted here. So expect lots of wild life while walking up towards the main temple area. Lovely pilgrimage center cum family picnic spot for guests living in and around River Castle holiday home of Mobor.
Tamdi Surla Temple
This is the only ancient and antique temple existing from the Kadamba Yadava Dynasty period of Goa. Tambdi Surla temple is the oldest surviving temple of Goa from very ancient times. This temple survived the onslaught of Portuguese destruction due to its location in the interiors of Goa. Besides the Tambdi Surla temple runs a steady stream of water w
hich further down ends into the Tamdi Surla waterfall. Tourists in Goa should go and view this 12th Century temple existing in stone and rock for time immemorial. According to historians, Tambdi Surla is believed to have been built by the Kadamba Queen Kamla Devi. This Tamdi Surla temple is dedicated to Lord Shiva. Close by to the temple is the Sunset point on the Karnataka border offering un interrupting views of the carpet of green landscape. Guests of River Castle holiday homes can visit this place for an ancient temple, nice waterfall, small rivulet, green gardens, sunset point and the Bhagwan Mahaveer Sanctuary.
Dudhsagar Waterfalls
Dudhsagar Waterfalls arouses only one reaction which comes to the focus and that is the pure enthusiasm of environment. The roar of falling waters can be perceived from as far as a kilometer away.
When one gets to see the waterfall plunging from a height of 310 meters, it purely captivates you! The absolute power and capacity with which Dudhsagar falls produces a lovely hazy and foggy curtain. Positioned on Mandovi River in Goa, bordering with the state of Karnataka, the Dudhsagar Waterfalls lies deep inside the Bhagwan Mahaveer Wildlife Sanctuary at the Goan Collem village in south Goa. Visiting the waterfalls via vehicles and jeep tour is possible only during the non-monsoon season. During the monsoons, one can access the waterfall only on foot via hiking or trekking or by travelling on the Indian Railways. Not to be missed waterfall of Goa.
Cotigao Wildlife Sanctuary
Goa's second largest Wildlife Sanctuary, after Bhagwan Mahaveer Sanctuary being the first largest in Goa. Within the deep interiors of this forest the two big rivers of Galgibag and Talpona originate over here. Visit the interiors of the sanctuary to interact with Goa's old tribes such as the V
elip and Kunbi tribes. These are aboriginal people, still living within the precincts of the forest which lies within the sanctuary. Visit this place for a Zoo, for the Hindu priest's seminary at Shri Gokarn Partgali Jeevottam Math also known as Partagal Math well known for ancient Vedic studies, to see a 600 year old temple dedicated to Lord Parashurama an incarnation of Lord Vishnu.
Chapoli Dam
The Chapoli dam is positioned 1 km north-east of Chaudi village in Canacona district of South Goa. The dam is sited in a picturesque spot extending westward from the Sahyadri mountain ranges. It makes it an outstanding picnic spot to take a break as it lies in between surrounding green hills. The expanse around the Chapoli dam is considered to be a great eco tourist spot as it is bestowed with unusual beauty encircled by tiny rolling hills in the background. Plenty of fish abound in these still waters of the Chapoli Dam. The Chapoli dam supplies drinking water
to a part of the Canacona Taluka (district). This dam is located at a driving distance of around 36 kms from River Castle holiday homes of Mobor.
Honeymoon Beach
Honeymoon beach lies little ahead of Butterfly Beach which is one more exotic cove concealed brilliantly between two hills. In and around Palolem this beach is known as Honeymoon Beach because it is not reachable by foot and only the coura
geous few dare to discover it. This hidden honeymoon beach is favored amongst lovers and newlyweds because the whole beach is to oneself where one can dare to do skinny dipping, full body tan or just do something wild amidst nature.
Butterfly beach
This Butterfly beach is at lands' end on the cliff that exists besides the Palolem River. The location of butterfly beach from the main land of Palolem beach is not more than 200 meters and a short boat ride, during high tide is good enough to reach and approach the Butterfly beach. The isolation acts a blessing in disguise as the island offers a secluded beach to the visitors all with its solitary charm and the thrills of any other Goan beach sans the overcrowded and over polluted stretches of sand. The dolphins are extra acrobatic in the waters surrounding the island.
Low tides would create a vast canvas on the beach which is painted by the designer footsteps of crabs and goldfishes. Canoe ride along the tiny water streams on the island provide a thrilling ride.
Chaudi Saturday local market
Chaudi is an interior South Goan village and is also known as Chauri. This place is situated at about 33 km south of Margao. It is the main center and market place of the whole Canacona district. It is regularly visited when one wants to get to Palolem, which is situated 2 km west, away from Chaudi market. Close to Chaudi market, within walking distance stands the new railway station for Canacona residents, part of the Konkan Railway. Chaudi has a church known as the Sain
t Theresa of Jesus Church, situated right in the middle or heart of the Chaudi market. Every Saturday all the Tribal people, local farmers from far off villages and spice plantation owners come to sell their produce directly to the customers. Chaudi Saturday local market is somewhat like a Farmers market. It also has a well-known market where one can get a lot of spices and all other necessary grocery supplies. Visit to experience a true local market of Goa.
Coco Cola beach
This is one of the rarest and secluded beaches of Goa. This beach is located in the village of KHOLA panchayat in Canacona village of Salcete district in South Goa. Hence the name with English speaking tourists visiting this beach has become today's, COLA beach. This is an exotic and unique beach in South Goa. Cola's sandy b
each is divided by salty sea water on one side and a coastal sweet water lagoon on the other side. This is a "Picture – Postcard – Picturesque" beach of South Goa. The only accommodation on this beach is the natural tents built over here.
Pepsi Cola beach
This is the smaller part of the Cola beach and is lovingly named by foreign tourists as Pepsi Cola beach. To reach this place, one has to put in a little bit of effort. There is no public access to the beach of Pepsi Cola. There exists a modern built road over a densely forested mountain and it appears to be private. The last stretch one has to trek on foot, downhill to reach the beach. Pepsi Cola beach is the smaller adjacent beach to Coco Cola beach.
Rachol Seminary
R
achol is a Goan Catholic Seminary (religious instruction institution) and is to be found about 7 kms from the main city of Margao, in South Goa. On the top of a small hill near Rachol and the small village of the Goan village of Raia, lies the well-known Rachol Theological College fenced by the remains of a moat of an old fort. The seminary at Rachol in Goa was built in 1580 along with the college of Ignatius Loyola in the year 1580. & was transformed into a Diocesan seminary in the year of 1762. Later the Seminary had a church built in 1576, dedicated to Saint Ignatius Loyola - the founder of the Jesuit order, which remains in outstanding condition. Inside the church, there is a caparisoned statue of Saint Constantine (the first Roman emperor to convert to Christianity), on the richly engraved and gilded main altarpiece.
Spice Plantations
Goa is blessed by a sprinkle of Spice Plantations that have opened up their
activities more on a commercial scale to educate tourists about the Spices of Goa and India. At any time there are more than a dozen spice farms and plantations that allow tourists and general visitors to come and see the farming, gardening and agricultural activities up close in the midst of nature. To name a few of them, Tropical Spice Plantation, Pascoal Spice Village, Rustic plantations, Sahakar Spice Farm,Sai Her
barium, Parvati Madav Park Plantation, and many more. Spice plantation visit is a full day trip in Goa, starting with welcome drinks, traditional entrance, Organic veg breakfasts and lunch, introduction to spices of Goa and exhibition cum sale of local organic products too.
Naval Aviation Museum
This is a one of a kind of museum of the Indian Navy all over India and Asia too. The museum has gained appreciation with adults and children alike. This Navy museum has visits from students from schools and colleges, aviation enthusiasts, inquisitive tourists, Service and civilian dignitaries visiting Goa and even the local Goan residents. Over 3000 students visited the Museum last year. The average 'footfall' during the peak season (October to January) is 3500 to 4000 visitors per month. There is nothing similar to this museum anywhere in Asia. It is a visual delight to see some of the planes of World War I and World War II that are out of action now. Children can climb and play in some real planes too. None of the planes are mock ones. They are all real. All of the planes are from the world of Navy. This place is a photographers delight as one can pose besides Navy planes displayed out in the open to touch, see, feel and capture in camera.